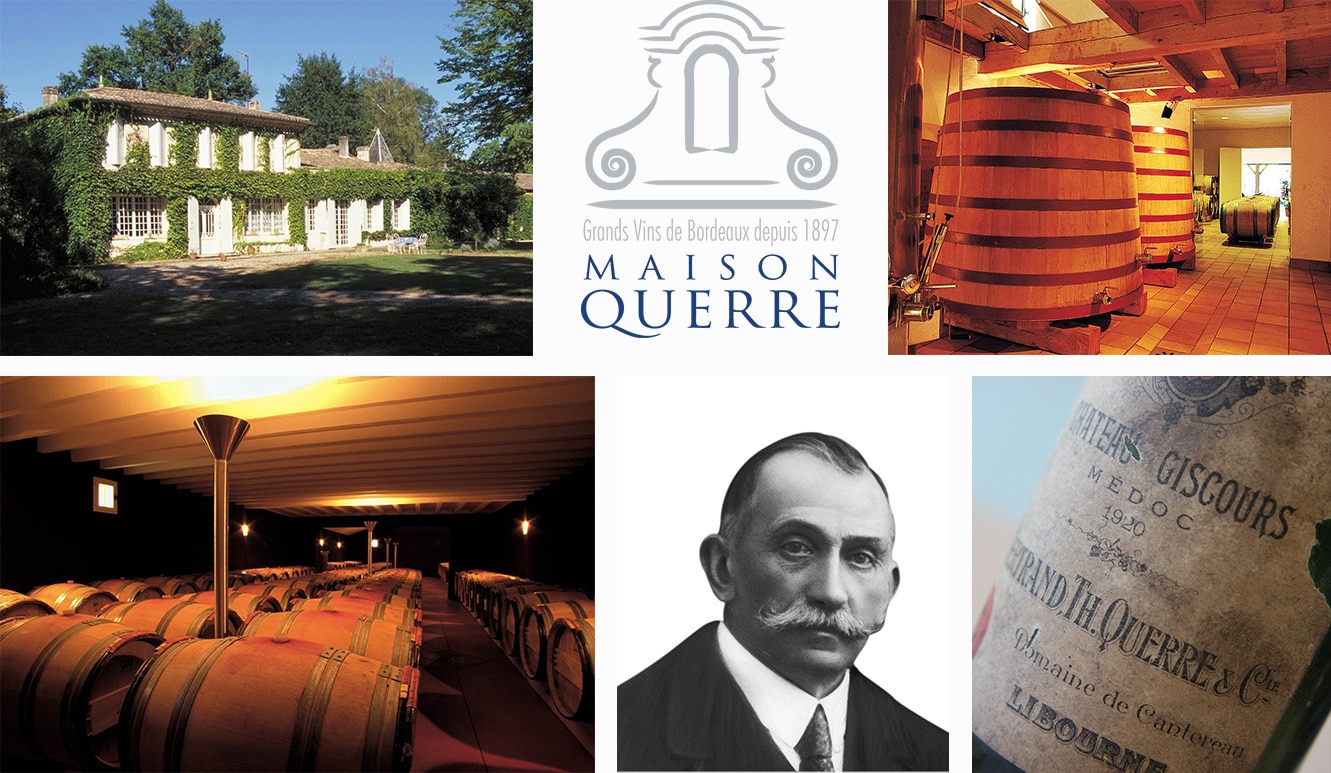 A company established in 1897 that has ceaselessly adapted to market developments to ensure its growth, and which is today one of the key players in the distribution of Bordeaux's great wines in the HORECA sector.
1897 : Théophile Querre establishes his own trading company.
1909 : He purchases his first vineyard in Pomerol, Château Mazeyres. He is succeeded by his sons Daniel (1906 – 1973) and Christian (1909-1973), who take over management of the family company.
1957 : Daniel and Christian Querre decide to set up their own separate wine merchant businesses, creating a dynamic that helps to develop the Querre name both in France and abroad.
1973 : Their eldest sons, Alain and Michel, take over as head of the respective companies.
1995 : In order to better develop their growth and strengthen their market positions, the two companies decide to join forces to create a single Maison Querre, under the direction of Michel Querre.
2007 : After running his own wine merchant business for over 30 years, Michel Querre decides to retire. Administration and sales are taken over by Maison Vedrenne in Libourne. The move ensures the future distribution of the Querre family estates and partner growths, and Michel maintains his relationships with Maison Querre customers, still giving tastings of the wines he continues to proudly produce: Le Moulin, Château Patris and Château Brun Despagne.
A responsive, modern commercial and administrative structure dedicated to customer satisfaction.
Supported by an extremely efficient administrative and logistical structure, and bolstered by its excellent image, brand recognition and expertise as a privileged supplier of the HORECA sector, Maison Querre achieves new momentum.
The company focuses on a constant search for the best quality-price ratio in its selections and excellent customer service and representatives, enabling it to become one of the top suppliers of France and Europe's finest restaurants.
Twenty carefully selected chateaux are exclusively available to our customers, alongside a complementary range of other chateaux and a wide range of great growths purchased on a futures basis, which are personally transported by the company and stored under optimum conditions.
Supported by a team of sixty representatives in France, and after celebrating its hundred-year anniversary in style, Maison Querre continues to grow thanks to shrewd management and a supply policy based on close relationships with winegrowers.